お知らせ
An interview with our employee, Amelie Geeraert, was selected as one of TokyoMate's "9 Must-Read Articles of 2021"!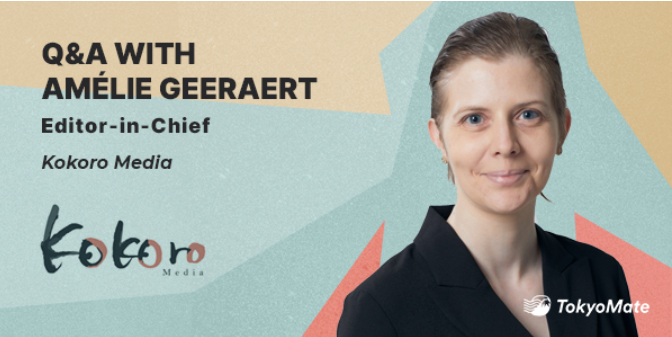 In September 2021, Kokoro Media chief editor and combrains employee, Amelie Geeraert, was interviewed by TokyoMate about her work regarding Kokoro Media.
TokyoMate is a company that provides digital email services and bilingual assistance to foreign businesspeople, and their website has a lot of valuable information for foreigners who want to do business in Japan.
The interviewee, Amelie, is originally from France, has been living in Japan for over 10 years, and has been working at combrains for over four years. She works as a tourism curator, providing her expertise and unique perspective on tourism to various local organizations, and is also the editor-in-chief of Kokoro Media.
Kokoro Media is an English-language website operated by combrains that aims to candidly convey the "real" Japan from various angles, focusing on interviews and culture articles. For more information about Kokoro Media, click here.
The interview with Amélie Geeraert in TokyoMate was so well received that it was even selected as one of the site's "Discover Our 9 Must-Reads of 2021" published in December 2021. Its author mentioned that "Amélie Geeraert's approach to the craft made me want to keep progressing as a writer and editor," adding that "this article will give you a pep-up as you start content planning for 2022."
We are very happy that Kokoro Media and its editor-in-chief, Amelie, were featured in this article, and that we are able to contribute to building a bridge between Japan and other countries. We will continue to do our best in providing English-speaking people with high-quality content and various opportunities to learn about Japan.
Click here to read "Discover Our 9 Must-Reads of 2021" and here to read the original interview.